Delicious Fresh Goat Cheese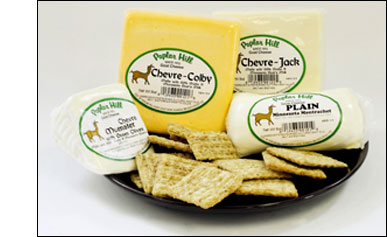 Cheese made from goat milk is among the oldest and most popular cheese in the world. They are varied in taste and versatile in use. At the end of 2020, after almost 40 years of making delicious goat cheese for our farm, our cheese maker retired so unfortunately we no long have goat cheese. 
Hopefully at a later date we will have goat cheese available again. 

Home | Does For Sale | Bucks For Sale | Show Wins | Goat Milk | Goat Cheese | Goat Milk Soap
Photo Album | Farm Tours |Testimonials | Contact Us | Facebook
---
Poplar Hill Dairy Goat Farm - Scandia, Minnesota USA
Copyright 2022, Poplar Hill Dairy Goat Farm. All Rights Reserved.