Delicious Fresh Goat Cheese For Sale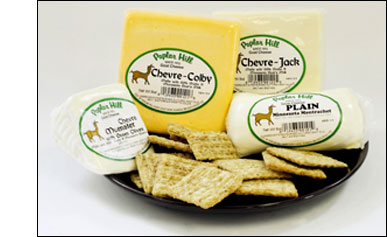 Cheese made from goat milk is among the oldest and most popular cheese in the world. They are varied in taste and versatile in use. Poplar Hill has been selling goat cheese and Grade A goat milk for many years.
Our goat cheese is available in 2 varieties of fresh, soft goat cheese, Minnesota Montrachetand Minnesota Montrachet with herbs. . Fresh cheeses are those which have not been aged. They are soft and creamy, enjoyable eaten by themselves or added to a wide variety of dishes for new taste and flair.
Poplar Hill Goat Cheese Varieties
AWARD WINNING - Minnesota Montrachet -

Poplar Hill Goat's Milk cheese 2nd Place at 2011 MN State Fair - Artisan Cheese division!


This is a soft and moist chevre (pronounced shev) made in the finest French tradition with Minnesota freshness. As white in color as the quality milk from which it is produced, Minnesota Montrachet is considered by many to be one of the best of the mildly tart, fresh chevres.

---

Minnesota Montrachet with Herbs
Our same fine fresh chevre with the added touch of flavorful sweet basil.

---

Home | Does For Sale | Bucks For Sale | Show Wins | Goat Milk | Goat Cheese | Goat Milk Soap
Photo Album | Farm Tours |Testimonials | Contact Us | Facebook
---
Poplar Hill Dairy Goat Farm - Scandia, Minnesota USA
Copyright © 2020, Poplar Hill Dairy Goat Farm. All Rights Reserved.